Do you wish someone could just understand you?
Could your body use some tender affection?
Have you ever wondered what it would be like for you to be listened to, heard, and touched in such a way that your body feels at ease and your chronic pains dissolve?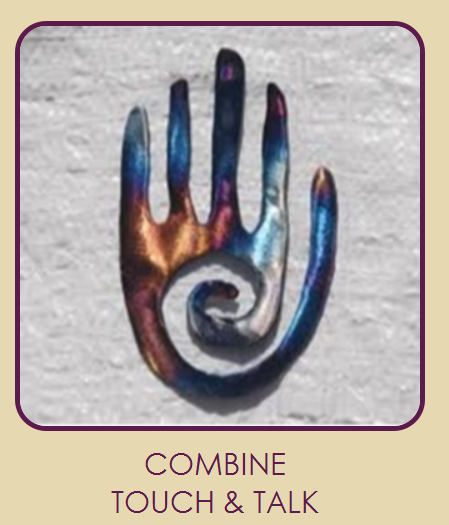 Many years ago, actually several decades ago, I was a high school teacher and later a professor of health and physical education teaching a variety of different sports activities (tennis, volleyball, slimnastics, weight training, gymnastics) and dance classes.  The problem was that my body always hurt.
My basic tendency is to want to experience everything.  I tend to overdo things in the process.  When I studied guitar, I took folk guitar lessons, jazz guitar lessons, singing lessons, songwriting lessons and I joined a small rock guitar training group.
So on one of my professional weekend conferences, I took classes in track and field, weight training, fencing and other strenuous exercises.  And then, at the end of the weekend, a friend invited me to go horseback riding.  As the horse leaned forward to eat some leaves, my back made a loud "Pop" sound and suddenly I could not move.  They brought me into a room where I laid on a bench for what seemed like hours.
That incident prompted me to seek out and receive all sorts of body therapy treatments, such as massage, craniosacral therapy, neuromuscular therapy, acupuncture, acupressure, Trager, Polarity Therapy, Alexander Technique, Feldenkrais Awareness Through Movement, Rebirthing, Breathwork, Energetic Healing and so much more.  However, no matter which body therapy method I received, the healing was never complete and did not last.
One week before I was scheduled to go before a committee for my dissertation oral exam, I had the good fortune to attend a Humanistic Psychology Association weekend retreat.  That is when I was introduced to the work that has become the foundation for my counseling and healing practice as well as the overriding philosophical approach to my life and my relationships.  I observed my future teacher and mentor, Ilana Rubenfeld, as she performed her magic with a client on a massage table in front of a huge crowd.
That is when I learned the power of combining talk with touch.  Ilana was famous for describing her early experiences when she would receive an Alexander Technique session and start to cry but had to wait until she went all the way across the town to see her Gestalt Therapist where she could talk about what had come up while she was being touched.
Talking "about" your life, your issues and your problems can certainly help to ease the pain and suffering, especially if you speak to someone who cares and understands and helps you to feel better.  But there is something about touch that reaches deep inside in a way that talk alone just cannot do.  In fact, there is a certain gene than can only be turned on and expressed through touch.
So it is with personal pleasure and delight that I am interviewing one of my early mentors in this powerful Rubenfeld Synergy Method which combines talk and counseling and empathic listening with a specific, gentle type of touch.  The synergist, the name given to a practitioner of this method, holds the space for healing to occur.  We do not "tell" our clients what we believe is "wrong" with them as many other modalities encourage.  What we do is that we Listen to the Body and the client discovers their own inner wisdom as revealed through their specific body symptoms.
Please listen to the poetic and elegant way that my friend and mentor, Joe Weldon, describes this beautiful healing work that he has devoted his life to sharing and teaching.  Along with his wife, Noel Wight, he is co-director of the Rubenfeld Synergy Training Institute.
Please share your thoughts and responses in the comments below.
Warmly,

The following two tabs change content below.
Dr. Erica Goodstone is a Spiritual Relationship Healing Expert helping men and women heal their bodies and their relationships through love. Having presented her comprehensive relationship healing programs throughout the U.S. and Canada over several decades, she has helped literally 1000's of men and women to heal through learning how to love. Dr. Erica believes "Where There is Love There IS a Way". When you love, accept, listen and pay attention to your body, trust your own sense of what you truly desire, and strive to understand, appreciate and really know the other people in your life, anything and everything is possible.
Latest posts by Dr. Erica Goodstone (see all)