Or Anyone Else
Persuasion is the art of convincing others to do what you want them to do.  Why do some people create wonderful, happy, loving and reciprocal relationships while others continually struggle?  Why do some people easily get hired for a job, hire conscientious and loyal employees, build a team of dedicated co-workers or easily sell their products and services to eager customers?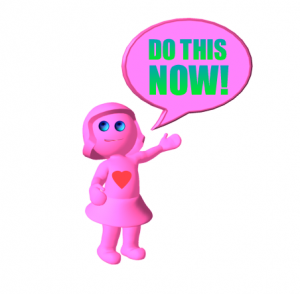 Understanding the art of persuasion can transform your life in every area, including your own health and wellness.  When you have difficulty persuading others to say and do what you want them to do, you will discover that you also have a similar difficulty persuading yourself.  You plan to go on a diet to lose weight.  If you are persuasive, you will easily tone down the hungry child inside of you, the voice that keeps pushing you to indulge in fattening foods.  If you are persuasive, you will push through the early pain in a long distance aerobic workout or keep lifting more weights after your body starts saying "No."  If you know how to persuade, you can easily persuade yourself to do what is in your own best interest for your long term goals.  You cannot convince others to do anything that you can't even convince yourself to do consistently, with enthusiasm and with definiteness of purpose.
Persuasion Includes 6 Key Elements
Reciprocity – You do a favor for someone and they reciprocate by doing something for you.  However, people don't always respond instantly.  You may find yourself giving many times before the other person suddenly surprises you with a gift you didn't expect.  If you give and expect immediate ROG (return on giving), you will easily be disappointed and give up too soon. When you give freely to another person it becomes easier to influence and persuade that person to do what you want.  They may feel guilty to not having done enough or obligated or just grateful for what they have received.
Social Validation – If you are married to a beautiful woman or a handsome man who constantly receives stares and compliments from friends and relatives and strangers, just by association you will probably have a sense of validation.  You may feel proud to be seen with this person.  It appears to increase your own value in the eyes of others, the value that comes from associating with someone attractive.  It is easier to be persuaded by someone who helps you to feel socially validated when you are with him or her.
Consistency – If you give sometimes and then withhold at other times, if you dress to the hilt on some occasions and let yourself be sloppy and unkempt on other occasions, you are not providing consistency in your appearance.  If you sometimes arrive on time and often arrive late, if you get the tasks done as promised only once in a while, if you often don't keep your promises, it will become increasingly difficult to convince someone to do what you want when you want it.
Authority – One of the most exasperating experiences is to attempt to argue about legal issues with an attorney, about money with an accountant, about emotions with a psychotherapist, about anything with someone perceived as an authority.  Even if you present more accurate facts and a much more comprehensive argument, the person in authority retains the upper hand.  If you want to be persuasive in your relationships, strive to become an authority.  Read appropriate books, watch lectures and presentations by leading experts, move into circles with relationship professionals, and learn about the dynamics of human relationships.
Liking – It is well known that people like to do business with other people that they know, like and trust.  But somehow, in our most intimate relationships, we tend to assume that we are automatically known for who we are, liked exactly as we are, and trusted without confirmation.  But relationships and intimacy don't work that way.  Just as we need to build these qualities into every friendship and business association, we absolutely need to provide this with our most intimate partners.  Our partner may feel physically attracted to us but may not like us if we do not provide reciprocity, social validation, consistency, authority, and loving kindness.  Many relationships last a long time without a sense of liking each other – perhaps there is a financial or emotional need but there is also a sense of lacking something important.
Scarcity – Marketers know the value of creating a sense of scarcity.  To sell our products and services, we will do well to give a special bonus or discount for a limited period of time.  When choosing a lifetime partner, we want to feel that this person is unique in some way, that we cannot find those exact qualities in another person.  Think of all the movies we've seen in which a guy loses his girlfriend and then sees her with someone else and suddenly can't live without her.  Before he broke up with her, when she wanted him to make a commitment, he may have been impossible to persuade.  But once he  begins to feel that she is unique and special and if he doesn't do something immediately he will lose her, that sense of scarcity has persuaded him.
How persuasive are you in your business?  How persuasive are you in your relationships?  And finally, how persuasive are you with yourself?  Do you keep your word to yourself about whatever you promise you are going to do?
CALL ME to become a POWERFUL PERSUADER now.  What are you waiting for?
I would love to hear from you.  Please share your thoughts in a comment below.
Warmly,

The following two tabs change content below.
Dr. Erica Goodstone is a Spiritual Relationship Healing Expert helping men and women heal their bodies and their relationships through love. Having presented her comprehensive relationship healing programs throughout the U.S. and Canada over several decades, she has helped literally 1000's of men and women to heal through learning how to love. Dr. Erica believes "Where There is Love There IS a Way". When you love, accept, listen and pay attention to your body, trust your own sense of what you truly desire, and strive to understand, appreciate and really know the other people in your life, anything and everything is possible.
Latest posts by Dr. Erica Goodstone (see all)