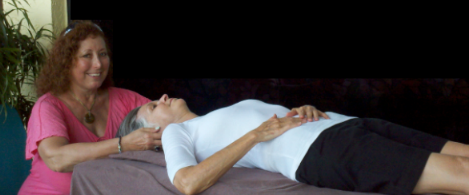 Recently I have been interviewed on many different events, mostly about relationships and love, and I realized that nobody has been talking about touch. Gentle touch and touch therapy (combined with counseling, body awareness, visualization, meditation, yoga stretches and postural alignment) have been a natural part of my counseling sessions for decades.  In fact, to insure that my intentions are not misunderstood, many years ago I went back to school for a full year to obtain a massage license, a license to touch clients.
Since touch was such an integral part of my work, I tended to talk more about relationships, sexuality, intimacy, love and all the problems that block or interfere with pleasure and the enjoyment of life.  Then I heard a few people excitedly talking about one type of body therapy as if it was the cure-all for everything.  Having studied many, many different types of touch and touch therapies with leading teachers and practitioners, I began to feel the need to share my knowledge and understanding more openly.
So, finally I have started talking about touch, touch therapy, somatic awareness and body oriented psychotherapy – again.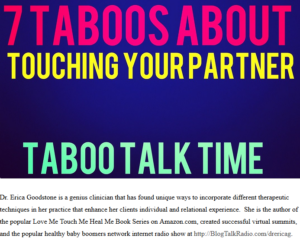 If you have a physical, emotional, mental or even spiritual problem
Pay attention to the sensations in your body

Instead of suppressing the uncomfortable feelings

Stay with the feelings, touch your body gently, say soothing words
Or
Receive a body therapy session from a qualified practitioner

Choose a somatics practitioner who will help you explore the sensations

Find a body oriented psychotherapist, trained in counseling and in touch therapy
On the virtual summit I created in 2016, I interviewed many of my teachers including Ilana Rubenfeld (Rubenfeld Synergy Method), Wataru Ohashi (Shiatsu), John Beaulieu (Polarity), and Roger Tolle (Trager) and the sons of my teachers, Frederic Lowen (Bioenergetic Analysis) and John Matthew Upledger (Craniosacral).  Divided into separate modules, the topics ranged from touch therapy, to somatic awareness, to energetic therapies, to Asian therapies, to body psychotherapy methods and beyond touch therapies into dealing with end of life therapy and possible multi-life therapy.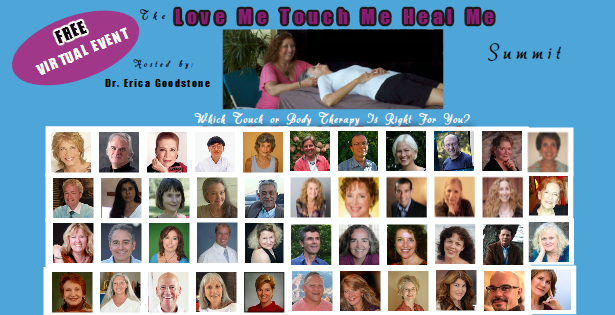 Touch is the ultimate communication. Your body does not lie.  Your thoughts may confuse you.  Your words may not accurately express your thoughts.  But your body will tell you everything you need to know – if you listen with an open mind, without preconceived ideas, and without judgement.  Your body is your best friend and it is time to treat it that way.
BELOW I EXPLAIN HOW TOUCH HELPS US
TO HEAL AND THRIVE


MY BACKGROUND AND TRAINING
TOUCH, SOMATICS, BODY PSYCHOTHERAPY
Let me provide some of my background and early training that led me to incorporate the amazing healing potential of touch into my private, couples and group sessions. I was a Professor of Health and Physical Education for 25 years and before that I had taught at the high school level. I taught yoga, stress management, health, tennis gymnastics, slimnastics, human sexuality and even some jazz dance courses and I coached tennis and gymnastic teams..
Having all sorts of aches and pains, I reached out to receive different types of body therapy in New York City in the 1970's and 1980's I received massage, Trager, Rolfing, Myofascial Release, Reflexology, Shiatsu, Thai Massage, Acupuncture, 7 Rays, Shamanism, Reiki, Alexander Technique, Feldenkrais, Hypnosis, and others without a definite name.   I took many trainings in Trager, but when I was going on a trip to California and reached out to hopefully get a session with Milton Trager, his phone assistant refused to let me because I was not certified and advanced, I had only completed the intermediate training.  I also took many, many shiatsu courses with Waturu Ohashi, a master teacher from Japan.
I was in a doctoral program in Human Sexuality, Marriage and Family Living at New York University.  When I graduated and started my sex therapy practice which included my touch therapy and body psychotherapy, I went back to school for a year to get a massage license for my own protection, but I never intended to actually do regular massage.
A week before my doctoral dissertation orals, I attended a weekend at the Association for Humanistic Psychology and met my teacher and mentor, Ilana Rubenfeld.  Her beautiful work, (the Rubenfeld Synergy Method, combining Gestalt Therapy, Eriksonian Hypnosis with Alexander Technique and Feldenkrais) put it all together for me – the mind, body, spirit connection.  It was a 3 year training.  During the breaks, I got trained and certified in Polarity Therapy with John Beaulieu.  At some point, I started receiving sessions with Dr. Alexander Lowen, creator of Bioenergetic Analysis, and I attended a few of his workshops as well.  Next I studied Craniosacral Therapy and Somatoemotional Release with Dr. John Upledger.
Then, in 1996, Ilana asked me to represent the Rubenfeld Synergy Method on the Steering Committee for the newly forming U.S. Association for Body Psychotherapy.  I also was on the first few boards and was newsletter editor for awhile. So, as you can see, I have had lots and lots of training in various modalities and lots of exposure to practitioners and teachers of the many different methods and modalities.
Ilana Rubenfeld Speaks About The Rubenfeld Synergy Method
The Foundation For Dr. Erica's Healing Through Love Mentoring
Dr. Candace Pert's Documentary About "The Molecules of Emotion

"
Clearly Explains How Emotions Are Felt Throughout The Body
BOOKS, EBOOKS, KINDLE, SMASHWORDS
DR. ERICA'S RADIO SHOWS
DR. ERICA'S BLOG POSTS
DR. ERICA'S ARTICLES
The following two tabs change content below.
Dr. Erica Goodstone is a Spiritual Relationship Healing Expert helping men and women heal their bodies and their relationships through love. Having presented her comprehensive relationship healing programs throughout the U.S. and Canada over several decades, she has helped literally 1000's of men and women to heal through learning how to love. Dr. Erica believes "Where There is Love There IS a Way". When you love, accept, listen and pay attention to your body, trust your own sense of what you truly desire, and strive to understand, appreciate and really know the other people in your life, anything and everything is possible.
Latest posts by Dr. Erica Goodstone (see all)