Follow Your Passion
I have often heard that it is good to follow your passion, do what you love, let go of something that no longer serves you, and move on to something better.  This philosophy carries over into all aspects of life.  Leave the job that provides adequate income and comfort so that you can build on your unique talents and skills.  Break up with your partner once the passion has waned or because of some difficult personality traits to be with someone who currently stimulates your passionate desire or appears to have a much easier temperament.
I am not a huge risk taker and I love to remain in a place where I am comfortable.  But I also do not shy away from challenges and new experiences.  My intention is to live in the flow of life, not making waves unless pushed or pulled into it.  My modus operandi is defnitely not to purposely be controversial.   I love to have a stable environment around me so that I can spend my time focusing on the people and activities I love.
When I started to write this post I searched for some articles about leaving something good for something better.  What I expected to find was a slew of articles encouraging the reader to let go of something good to make room for your passion, your love, and the fulfillment of your dreams.  But to my surprise, I found just the opposite as you can see in the following quotes.
Never leave something good to find something better,
because once you realize you had the best, the best
has found better.   ~Unknown (Drake quote)
"'Follow your passion' is crappy advice." 
~Joshua Fields Millburn
"Not following your passions will ultimately lead
to satisfaction."  ~Cal Newport

"Don't do what you love, learn to love what you do….
Not following your passion will ultimately lead to
success….Be patient. Passion comes with
mastery and time." ~ Sebastian Klein 
One year ago, the place where I was living and working became increasingly uncomfortable, but true to form I did not easily choose to move until the ceiling in the building hallway actually caved in.  I needed a message so strong that there was no more decision to be made.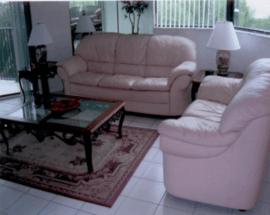 My comfortable environment had changed and catapulted me into making  a big move.  This led to a beautiful new space with views of the ocean and a magnificent pool right downstairs where I could relax and feel the ocean breeze in the warm sunshine of Florida.
Then, a few months later, the brand new hurricane windows in my magnificent panoramic view bedroom, leaked.  Since the leak occurred behind the large u-shaped dresser with a huge mirror on top, I did not notice that anything unusual was happening – until I smelled it.  Mold had developed under the plush carpet.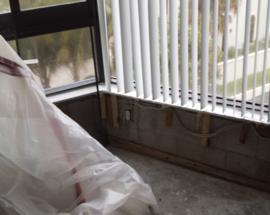 Next thing I knew, the mold remediaters came and swooped up the carpet, removed the dresser, closed off my huge walk-in closet and the 2nd upstairs bathroom. All the clothing that had been in the dresser drawers was now on top of an area in my office and boxes filled the hallway at the top of the staircase.
It took over 3 months before the place was back in order and the dresser was replaced.  During this fiasco I thought I would never feel good in that place again, but as soon as all was back in place I forgot about the previous turmoil.  That is, I felt fine until the unit owner decided to sell the place or rent it for a much higher fee than I was paying.  After some time, I was actually offered another opportunity to stay but by that point I was headed in a new direction.
This place had been quite good for me.  The space was more than three times larger than my previous apartment, directly on the ocean, in a much more upscale neighborhood, with high quality neighbors.  But there were some things I did not like about it.  The Feng Shui (energetic layout) of the rooms was not the best.  There were too many closed off spaces and walls which blocked the light and the energetic flow of the environment.But I would not have planned to move to find something better.
I could have been angry at the owner, upset with a "poor me" attitude because I had to move again.  Sure, for a short time I did feel that way.  And in the middle of the chaos of getting ready to move I did feel a twinge of annoyance.  And when I had not yet found a new place that appealed to me, I did become somewhat anxious.  But I kept repeating to myself that I am leaving something good for something better.
While experiencing all the problems with mold and chaos and workmen coming and going, I could have chosen to leave what had been good for something better.  But I chose to endure the chaos and remain.  What transpired in the end was that the timing of my move led me to look in a different neighborhood where I found a much more magnificent home than what I was leaving.  If I had pushed the situation and moved before I was propelled out of there, I am quite sure I would not have found the quality place I am now in.
Don't Ask "What Do I Want?"
Before making a move from something good to something better, take as long a time as you need.  Don't ask the obvious question, "What do I want?", which may actually lead to the wrong decision.  When you ask this question you tend to become critical, judgmental,even demanding that you or someone else makes changes to meet your standards. And even if you get exactly what you want now, you will soon want something bigger, better, or more unique.
Ask instead: "What Skills Do I Need and How Can I Serve Others?"
Think like an artisan, a craftsman, a creator, and think outside the box.  Ask yourself the question that highly successful people ask time and again:  "What skills do I need to develop to create something that has not yet been created?"  "And how can I serve others with my new creation?"
My latest move is over and I could not be happier.  A few months ago, when faced with the prospect of packing up my belongings and moving, I couldn't help wondering whether I would have to settle for something much less comfortable.
I could not possibly have known then that just the right space would become available for me.  But I know that I would have adjusted and found a way to enjoy my new place, no matter what.
The bottom line, taken from all the naysayers who claim that following your passion is not the path to success, is that it is not passion but skill that leads to success.  My living experiences have provided me with insight into what environments most suit my needs.  Without having lived in those previous places, I may not have realized the shortcomings of some of the homes I looked at.  I may have settled for one that seemed comfortable but not expansive and creatively inspiring.
I do not believe it is the best practice to leave something good for something better.  If a relationship is presenting problems and causing emotional upset, study the situation, get counseling, look beneath the surface, and do whatever you can to resolve the problems.  You will know when to leave because you will almost be propelled out of there.  The same applies to a job or career decision, a lifestyle choice or relocating to a different location.
Keep your day job.  Remain in your current committed relationship.  Don't change your health care practitioner, move from your home, or quit your sports team.  First decide what new skills you need to develop, what new information you need to research, and how you might best be able to serve others.
Wait.  Have patience, tolerance, acceptance and a powerful vision.
You will be amazed at what transpires.
Do you tend to leave something good, or not so good, in the hopes of finding something better before developing the necessary skills for success?
Please share your thoughts and personal wisdom in the comments below.
Don't struggle alone.Talk to me.
Warmly,

The following two tabs change content below.
Dr. Erica Goodstone is a Spiritual Relationship Healing Expert helping men and women heal their bodies and their relationships through love. Having presented her comprehensive relationship healing programs throughout the U.S. and Canada over several decades, she has helped literally 1000's of men and women to heal through learning how to love. Dr. Erica believes "Where There is Love There IS a Way". When you love, accept, listen and pay attention to your body, trust your own sense of what you truly desire, and strive to understand, appreciate and really know the other people in your life, anything and everything is possible.
Latest posts by Dr. Erica Goodstone (see all)