What Type Of Presentation Do You Need? 
READ ONLINE OR DOWNLOAD ONE-SHEET PDFS BELOW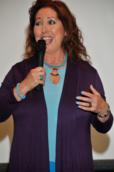 As a former Professor of Health and Physical Education, Dr. Erica can create a customized presentation for you about creating and maintaining health at any age.  As an experienced Relationship Healer, Marriage Counselor and Sex Therapist, she can focus on the big picture or provide a detailed presentation about a specialized area, such as sexual dysfunctions or preventing divorce.  If your goal is to encourage your group to blog their way to success, Dr. Erica uses her years of writing experience and social media engagement to show you the way.
LOVE, TOUCH, Sex and Recovery – Dr. Erica
HANDLING Stressful Emotions – Dr. Erica
CREATING Loving Relationships with Dr.Erica
KEEPING Passion Alive with Dr. Erica
SEX, Sex and More Sex – Dr. Erica
OVERCOMING Infidelity and Strengthening Your Relationship – Dr. Erica
PASSION and Healthy Aging with Dr. Erica
HELPING A Caretaker Survive and Thrive with Dr. Erica
CREATING A Business Blog with Dr. Erica
SOCIAL MEDIA FRENZY with Dr. Erica

Contact Dr. Erica Today to discuss how she can help you bring relationship healing to your next event.
DrErica@CreateHealingAndLoveNow.com 954-649-5228 (Ph)

The following two tabs change content below.
Dr. Erica Goodstone is a Spiritual Relationship Healing Expert helping men and women heal their bodies and their relationships through love. Having presented her comprehensive relationship healing programs throughout the U.S. and Canada over several decades, she has helped literally 1000's of men and women to heal through learning how to love. Dr. Erica believes "Where There is Love There IS a Way". When you love, accept, listen and pay attention to your body, trust your own sense of what you truly desire, and strive to understand, appreciate and really know the other people in your life, anything and everything is possible.
Latest posts by Dr. Erica Goodstone (see all)