I HAVE WORKED WITH MEN IN COUNSELING
FOR  DECADES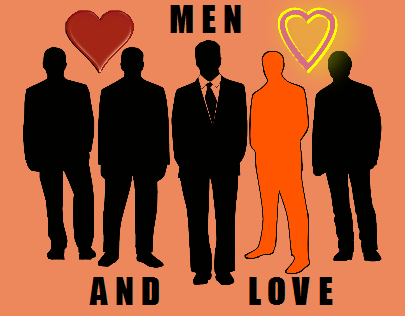 During this time span I have observed many changes in the issues and concerns that men have brought to counseling. Starting out as a sex therapist and couples counselor, the primary issues were often about sexual "performance". Men often complained about premature ejaculation, delayed ejaculation or loss of desire for the partner. Women often shared their lack of desire for sex, inability to orgasm or sometimes specific relationship concerns. The men rarely came to my office about relationship concerns. In fact, I used to often say: Women drag men in for couples counseling but men drag women in for sex therapy.
That scenario has really changed. Many, many men express a strong desire to create a wonderful, loving and passionate relationship. Many women have strong sexual desire and are concerned about a man who seems ambivalent or often avoids sexual intimacy. Many couples are dealing with the effects of previous trauma or some type of sexual abuse. Some clients are sharing about their gender identity issues, sometimes coming out as gay or lesbian, and sometimes expressing transgender concerns.
With a lifetime of personal experience with my own love relationships as well as decades of attending courses, conferences, and recently creating virtual summit video interviews, I know a lot about relationships. I understand from a societal perspective what men want, what women want, what society has imposed upon us, and what types of internal struggles men, and many women, are going through these days.
Although I work with men and women, gay and straight, individually or as a couple, I realized that so many articles, blogs, books, events and summits are focused on women – how they love, what they want and need, and how they can "capture" their man.
So — I created the Men and Love Series to focus on MEN, what they want, need, desire, what enhances or detracts from love, and whatever else would be revealed.
The Live Event has ended, but you can still get access to all the videos at a nominal fee.
This is a very special series of interviews I conducted with leading psychotherapists, sex therapists, best selling authors, entrepreneuers, sought after speakers and successful coaches. The entire series is available for at a very discounted fee. There is so much life changing value in these videos.
As a former Professor of Health and Physical Education, I worked with macho men whose behavior bordered on sexual harrassment at a time when women did not speak up about such stuff. So I know, firsthand, what that feels like for a woman. I also had very close relationships with these men so I grew to understand their perspective, lifestyles and modus operandi.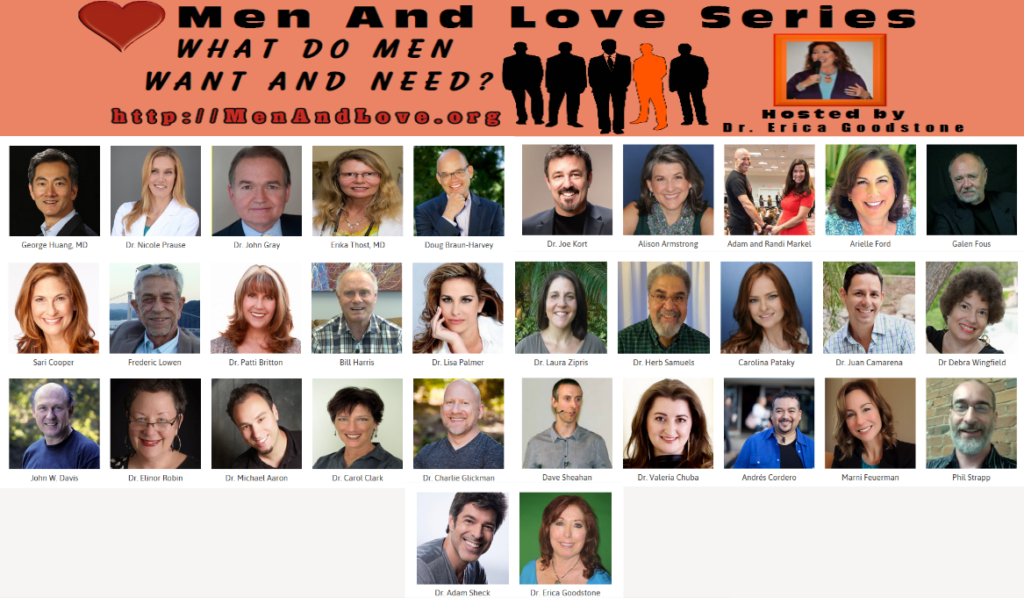 Love and sexual expression, discovering and pursuing our unique sexual and love preferences, and finding a partner or partners to share some simple pleasures has become increasingly difficult for many people. As each of us becomes aware of our own unique patterns and drives and desires, it can be difficult to share about it with someone we love. The fear is that this person will not love and accept us exactly the way we are. Perhaps, in the past we did open up to someone only to be judged or laughed, humiliated or embarrassed. Many men and women are walking around with quiet shame, thinking they are the only one with whatever their issue is. But if you search on the web, you are sure to find other people with similar types of desires, needs and concerns.
In my work, I use gentle touch and counseling that includes Gestalt Therapy, Eriksonian Hypnosis, Cognitive Behavioral Therapy, Spirituality, Stress Managment, Body Awareness, Guided Imagery, and so much more. There is one gene that is only turned on through gentle touch and that helps to soften the long-held tensions and body armoring that most men do carry. Emotions emerge that you may not have understood before but it like a light bulb going off, a Big Aha! And intimacy is finally a possibility.
When I work with couples, and they have gotten beyond being angry and blaming each other and are finally ready to get back to love, the body therapy sessions are often so beautiful. Finally, in that state of alpha and delta waves flowing in their brains, they feel compassion, love, tenderness and true intimacy with their partner.
WATCH MY INTERVIEW IN THE MEN AND LOVE SERIES
HEALING THROUGH TOUCH
DR. ERICA'S BOOKS, EBOOKS, KINDLE, SMASHWORDS
RADIO INTERVIEWS ABOUT DR. ERICA
Interview With A Relationship Healer
Healing Through Love Interview
How to Heal a Relationship
Heal Your Relationships Through Love

DR. ERICA'S RADIO SHOWS

Make Love to Every Moment
The Soul of Uncertainty
Love: The Stripped Down Naked Truth
Extraordinary Love
Hidden Keys To Finding True Intimacy & Lifelong Love
A Healthy Relationship – What Does It Look Like?
Relationship Mastery Strategies
Never Every Too Late For Love
Healing Your Relationships
It Really IS That Complicated
Navigating Your Life and Relationships Without A Script
Access to Passion
The Mystery of the Self
Out of the Darkness into the Light – A Blind Man Leads the Way
Ignite Your Relationships
How to Keep Love Alive – At Any Age!
Three Invisible Connectors: Space, Bridge, and Encounter
Are You Happy in Love?
How to Live from a Loving Consciousness
The Magic of Self Love
Self Love Bootcamp
A Diet of Love
Do Age Differences Matter?
Meditation for Daily Stress Relief
Joy Is Who We Are
Whispers Of The Himalayas
Choices And Illusions
Remembering The Light Within
BLOGS
Get Ready for Love
Intimacy Pact – How Have You Created Yours?
Clean Loving, Clean Life
Download Love, Upload Loving Relationships
Do You Know the Secret for Creating A Long Lasting Loving Relationship?
All You Need Is Love
The Neuroplasticity of Relationships
Don't Got to Sleep Mad – Get Back to Love
Relationship Success – Look Forward Not Back
When Stress Takes Over, Where Does Love Go?
Movement and Change – Can Your Relationship Survive?
Listen to Me … Please
I Love You … I Love You Not
Accelerate the Love in Your Relationship
Create the Relationship You Want, Not the One You Don't Want
How High is Your Relationship Trust Rank?
A Loving Relationship is Not an Olympic Event
The 10 Relationship Powers You Need
Find Lasting Love and Avoid the Problems and Dangers
Your Heroes – How They Affect Your Relationships Today
The Fragility of Love and the Complex Path to Loving Well
The ABC's of Love – The Art of Loving Made Simple
Speak Up – 3 Steps to Having That Important Relationship Conversation
Other People Make Relationships Difficult – 3 Questions to Ask Yourself
Relationship Healing Question – Ask … What Matters to You?
Speaking About Love
What Does Love Mean to You?
The Immaculate Conception of Love
Imagine Love Everywhere Always
Stop the Dating Cycle and Finally Get a Commitment
How Much Patience is Enough in Personal and Professional Relationships?
7 Simple Ways to Bring Romance Back Into Your Life
104 Places to Meet the Love of Your Life
Relationships CAN Heal
One Moment in Time
Oxytocin Hormone Helps You Connect, Cuddle and So Much More
Gratitudes for 2013 and Manifesting Intentions for 2014
Creating Loving Relationships – What Question Do You Ask?
YOU Make a Difference – Don't Ever Forget That
Marriage and Divorce Stats Around the World
Untying the Knot
Love is Ending – Divorce is Near
5 Essential Ways to Be You
Relationships Over 50 – AARP Study Reveals….
Start Strong, Stay Strong – Loving Your Dreams and Intentions
ARTICLES
Color Your Relationships For Love
Come Home To Love
Goodbye Inner Critic – Hello Love
How to Persuade the One You Love or Anyone Else
Love Is A Simple Game If You Play By The Rules
Relationship Marketing – Do It Right Or Don't Do It!
The following two tabs change content below.
Dr. Erica Goodstone is a Spiritual Relationship Healing Expert helping men and women heal their bodies and their relationships through love. Having presented her comprehensive relationship healing programs throughout the U.S. and Canada over several decades, she has helped literally 1000's of men and women to heal through learning how to love. Dr. Erica believes "Where There is Love There IS a Way". When you love, accept, listen and pay attention to your body, trust your own sense of what you truly desire, and strive to understand, appreciate and really know the other people in your life, anything and everything is possible.
Latest posts by Dr. Erica Goodstone (see all)