"Some people have all the luck," my friend recently told me.  "I always choose the wrong men."  She went on to explain her latest relationship fiasco and how her partner got defensive, "as he always does," and broke up with her.   Her immediate response was to blame him for not being good at relationships, for not caring enough and for not appreciating everything she did for him.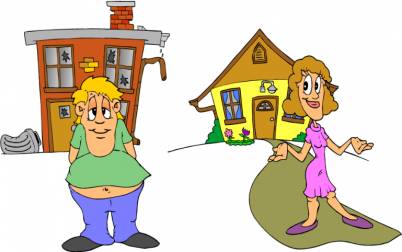 The part that my friend left out of the equation was the subtle and not so subtle ways that she pushed her partner away and stopped him from feeling safe in her presence.  She forgets to mention the numerous times she unfairly criticized him, told him what she thought he should or should not do, and refused to listen to his perspective on a problem.
There is a simple sign to indicate that the problem in a relationship (business, friendship, family, intimate) may not be the other person but may have something to do with your consciousness.  Take a good look at what tends to happen in your interactions with others.  Take a closer look at how YOU respond when things don't go the way you want, desire and expect.
Do people tend to get upset with you when you tell them how you feel about something they have done?
Do you find yourself frequently listening, helping and caring for others yet they don't seem to reciprocate?
Do you say that you want to have a close relationship yet you are afraid you will get hurt again?
If you have been experiencing any of the above feelings or responses, this may be a perfect opportunity for you to examine your own motives and modus operandi.  For the most part, other people are not inherently inconsiderate, naturally unfair, overly sensitive and hyper-reactive.  Yes, there are some individuals you may interact with who exhibit extreme emotional reactions due to a mental health issue.  But if you are often finding others to be uncooperative, self-centered, unwilling to reciprocate, defensive, angry or verbally criticizing you, it may be time to stop looking out there and start looking inside yourself.
The real crisis is our present level of consciousness, and not in the conditions that serve to reveal it.  ~  Guy Finley ~    If Your Relationships Are In Crisis, The Solution May Be In Your Consciousness
You reap what you sow.  Pay Attention to What You Are Reaping Now, What You Have Sowed In The Past, And What You Are Sowing Now For Your Future
For every action there is an equal and opposite reaction.  If people are often responding in ways that surprise, hurt, confuse or upset you, stop looking out there for the cause.
If you are the recipient of frequent defensiveness, hostility, and lack of reciprocity in your relationships with other people, here are a few questions you can ask yourself:
Is there something I have said or done recently or in the past that may be influencing this type of response?
In our relationships with people we have known for some amount of time, the past may be influencing the present.  One of us may have some unresolved emotions from several past interactions with each other that are affecting the way we respond today.
Have I intentionally or accidentally invalidated, dismissed, criticized or even insulted another person with my words or actions?
Many of us believe that a good relationship is one in which we are able to say exactly what we think and feel.  We expect that the other person will be able to fully accept us and appreciate our honesty.  When we prepare for a business presentation, we do not blindly blurt out facts and figures.  Usually, we spend a good deal of time preparing to present the information in the most favorable light and in a way that the audience might be receptive to our ideas.  Why do we tend to think that we don't need to prepare when we are dealing with a friend, colleague or intimate partner.
Did I begin this conversation by acknowledging something I believe is good, competent, special, unique and valuable about this other person before saying what I feel is not right or needs to change?
This simple preface before any personal interaction with another person can open the door to powerful and mutually beneficial conversations.  Every one of us wants and needs to feel acknowledged.  We do not want to be "told" who we are and what we "should" do.  We become much more receptive when we are asked appropriate and open-ended questions that allow us freedom to respond in our own way.
Think about a difficult conversation you have had recently.  Please share how you handled it, or mishandled it, in the comments below.
CALL ME To Help You Create Loving Relationships That Last
Warmly,

The following two tabs change content below.
Dr. Erica Goodstone is a Spiritual Relationship Healing Expert helping men and women heal their bodies and their relationships through love. Having presented her comprehensive relationship healing programs throughout the U.S. and Canada over several decades, she has helped literally 1000's of men and women to heal through learning how to love. Dr. Erica believes "Where There is Love There IS a Way". When you love, accept, listen and pay attention to your body, trust your own sense of what you truly desire, and strive to understand, appreciate and really know the other people in your life, anything and everything is possible.
Latest posts by Dr. Erica Goodstone (see all)