Features Dr. Erica Goodstone

RELATIONSHIP MASTERY SERIES VIDEO INTERVIEW

In this video interview, Dr. Erica talks about the healing power of touch, such as pain relief, better circulation, deeper breathing, decreased anxiety,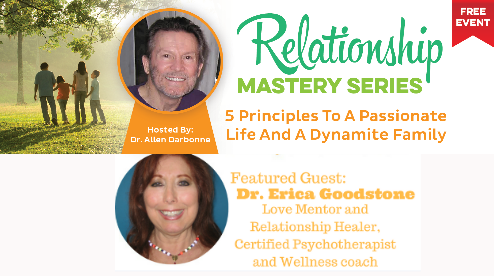 increased energy, relaxation and even deep spiritual connection. She then share insights into the unique and life changing Rubenfeld Synergy Method of Talk and Touch that has become the foundation for all of her healing work with individuals and couples. Her bonus gift is the Touch Me Please Video from the Love Me, Touch Me, Heal Me Video Series.
The following two tabs change content below.
Dr. Erica Goodstone is a Spiritual Relationship Healing Expert helping men and women heal their bodies and their relationships through love. Having presented her comprehensive relationship healing programs throughout the U.S. and Canada over several decades, she has helped literally 1000's of men and women to heal through learning how to love. Dr. Erica believes "Where There is Love There IS a Way". When you love, accept, listen and pay attention to your body, trust your own sense of what you truly desire, and strive to understand, appreciate and really know the other people in your life, anything and everything is possible.
Latest posts by Dr. Erica Goodstone (see all)