I have worked with men and women to enhance their sexuality and intimacy for
many decades and I have seen big changes in the types of issues and concerns.
Our society appears to be so open about sexuality yet, in truth, there is more repression, judgement, exclusion, bullying, humiliation and legal repercussions than ever before.  Although the media has become increasingly vocal about sexual minority groups, sexual abuse, sexual traumas, sexual enhancement products, sexually enhancing surgeries and sexually provocative clothing for younger and younger females, the atmosphere is not favorable to open and free expression of our natural sexuality.
Having started my counseling career as a sex therapist during the notorious "Free Love Era", I have become concerned about the increasingly repressive atmosphere around sexuality. I attended the Society for Sex Therapy and Research conference and reached out to many of my colleagues that I had known over the decades, a few from my New York University doctoral program, and many from courses and conferences in the past.  I invited them to participate in a virtual summit.  Many had. at that point, little experience with online videos so about half of the interviews were audios.
My goal was to highlight so many of these leading sexologists – MD's, therapists, researchers, counselors, educators, best selling authors, speakers, teachers and trainers.  Each focused on their own niches or specialties and I set up modules to group them together. The summit was a huge success and spurred me on to continue creating these types of virtual events.
As I listened to each person I interviewed, I learned some new techniques, new ways to view different aspects of sexuality, new treatment possibilities, and a renewed sense of the joy and wonder in working with men and women in this most intimate aspect of their lives.
VIDEO INTERVIEWS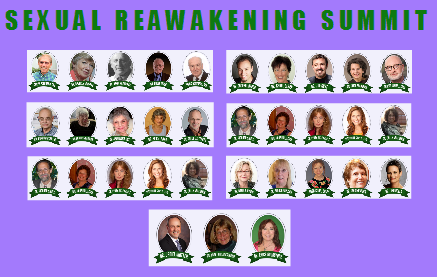 Dr. Erica's Interview on the Sexual Reawakening Summit
DR. ERICA'S BOOKS, EBOOKS, KINDLE, SMASHWORDS
DR. ERICA'S RADIO SHOWS

DR. ERICA'S BLOG POSTS
DR. ERICA'S ARTICLES
The following two tabs change content below.
Dr. Erica Goodstone is a Spiritual Relationship Healing Expert helping men and women heal their bodies and their relationships through love. Having presented her comprehensive relationship healing programs throughout the U.S. and Canada over several decades, she has helped literally 1000's of men and women to heal through learning how to love. Dr. Erica believes "Where There is Love There IS a Way". When you love, accept, listen and pay attention to your body, trust your own sense of what you truly desire, and strive to understand, appreciate and really know the other people in your life, anything and everything is possible.
Latest posts by Dr. Erica Goodstone (see all)