Dr. Erica's life work is about helping men and women, individuals and couples, gay and straight, young and old create and re-create loving relationships. Based upon her doctoral dissertation which studied the long term effects of adequate and inadequate mother-infant bonding upon adult love relationships, Dr. Erica has researched and worked with thousands of clients to overcome their childhood wounds and create powerful and supportive adult love relationships.
Below is a sample presentation about how love, touch and sex influence and affect recovery. Dr. Erica will easily adapt her presentations and workshops to suit your needs and the requirements for your company.. This can be presented in 1 hour, 3 hours, 1 day, 2 days, 3 days or a 4 week webinar or teleseminar series. 

Love, Touch, Sex and Recovery Workshop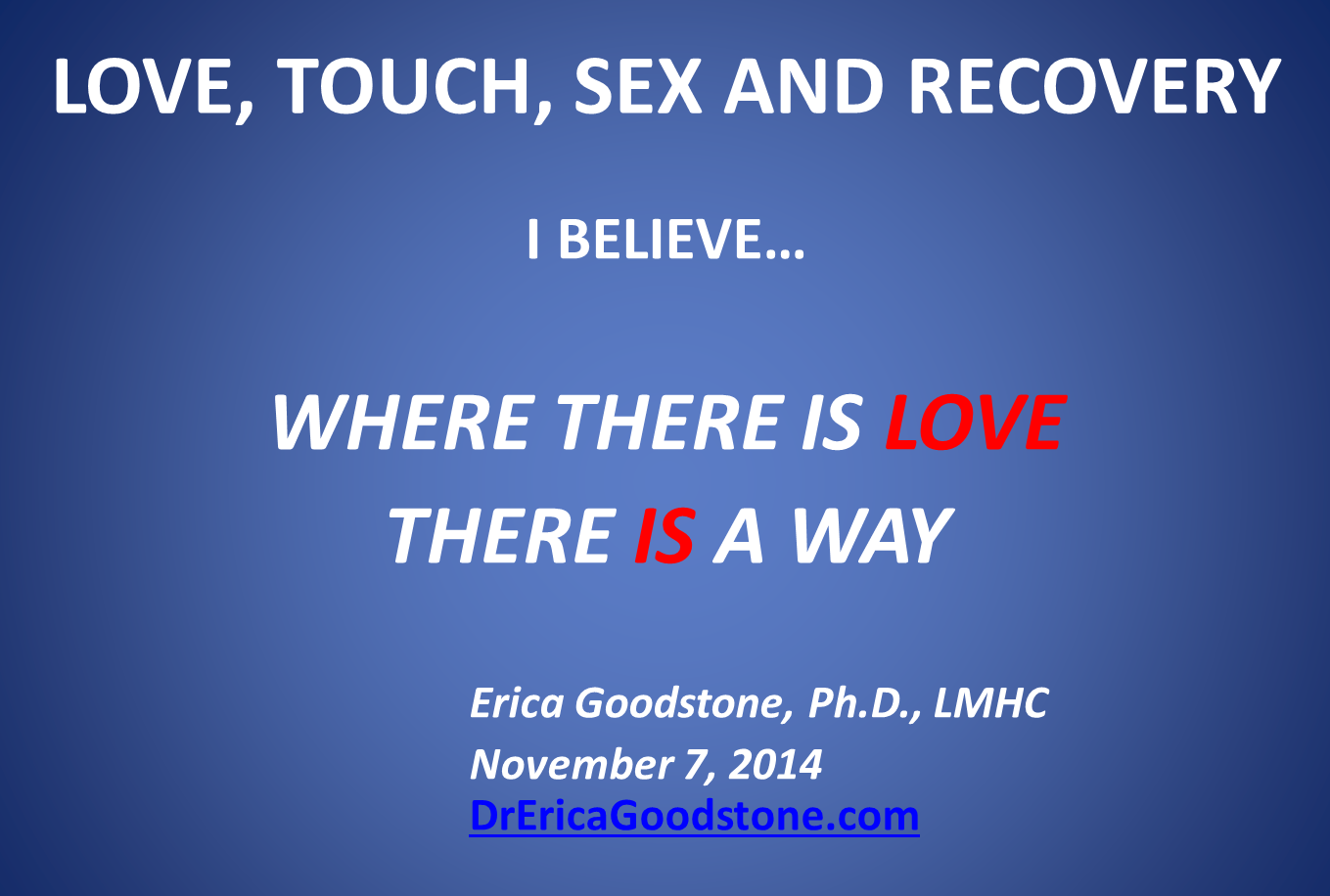 Love, touch, and sex are basic human desires. In this workshop Dr. Erica explains why we love and what interferes with and enhances love, how we touch and what research reveals about the way touch facilitates the mind body connection, how sex often interferes with recovery. and how healthy people love, touch and engage in sexual behaviors.
Attendees will learn:
How we love and what interferes and what enhances love
How touch facilitates the mind body connection and healing
Why sex often interferes with recovery
How healthy people love, touch and engage in sexual behavior
Through lecture, individual and partner exercises, participants examine how we love, what interferes or blocks it and how to create love in all of our relationships. We explore the healing power of touch and how it can be used effectively in recovery. And we attempt to clarify how a "healthy" person loves, touches and engages in sexual behavior.
Participants leave this workshop with greater understanding of what it takes to love, how touch facilitates healing, what it takes to create healthy sexual relationships and how healthy love and healing touch can help in the recovery process.
The following two tabs change content below.
Dr. Erica Goodstone is a Spiritual Relationship Healing Expert helping men and women heal their bodies and their relationships through love. Having presented her comprehensive relationship healing programs throughout the U.S. and Canada over several decades, she has helped literally 1000's of men and women to heal through learning how to love. Dr. Erica believes "Where There is Love There IS a Way". When you love, accept, listen and pay attention to your body, trust your own sense of what you truly desire, and strive to understand, appreciate and really know the other people in your life, anything and everything is possible.
Latest posts by Dr. Erica Goodstone (see all)