Where There Is Love There IS A Way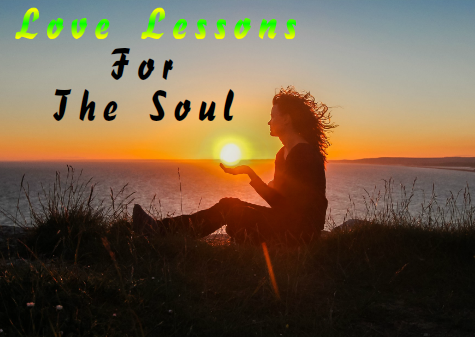 When You Embrace Your Spirituality
Believe You Are A Spiritual Being Inhabiting A Physical Body
Trust The Healing and Loving Power Within You
And Act In Alignment With Your Inner Connection To Source

When you are living with that enlightened awareness, you will not magically and instantly create a life of pleasure, happiness and ease.  You will have life experiences in the world as a human being, including ups and downs, hurts and problems, disappointments, loss, success and failure.  In fact, as you become more highly evolved and have greater understanding of the way the world works, you often seem to be more intensely tested by our circumstances.  But you are armed with knowledge that love heals all wounds, that with enough love you can truly overcome anything.
My Healthy Baby Boomers Network Radio Show is not just for Boomers but was created for everyone who seeks to live a more healthy and fulfilling life. Below are some of the spiritually enlightened books written by speakers on my radio show whose messages have evolved from their spiritual practices.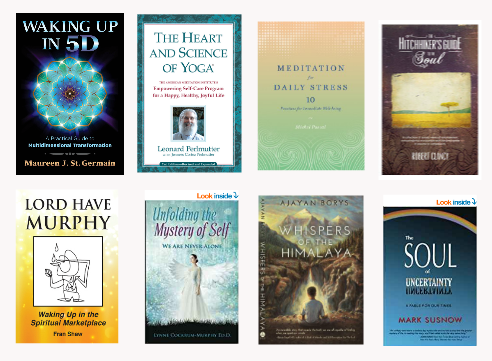 As a psychotherapist for several decades, I have seen love as the key to overcoming even the most difficult relationship problems – affairs, addictions, betrayal, even abuse.  However, I am not talking about blindly accepting the problematic attitudes and behaviors of others.  Instead, deep and abiding love requires that you do not accept the unacceptable. You take a stand for what you believe is right and you hold yourself and your partner accountable for words, actions, attitudes and behaviors.
Yol Swan Explains And Teaches About Indigo Adults.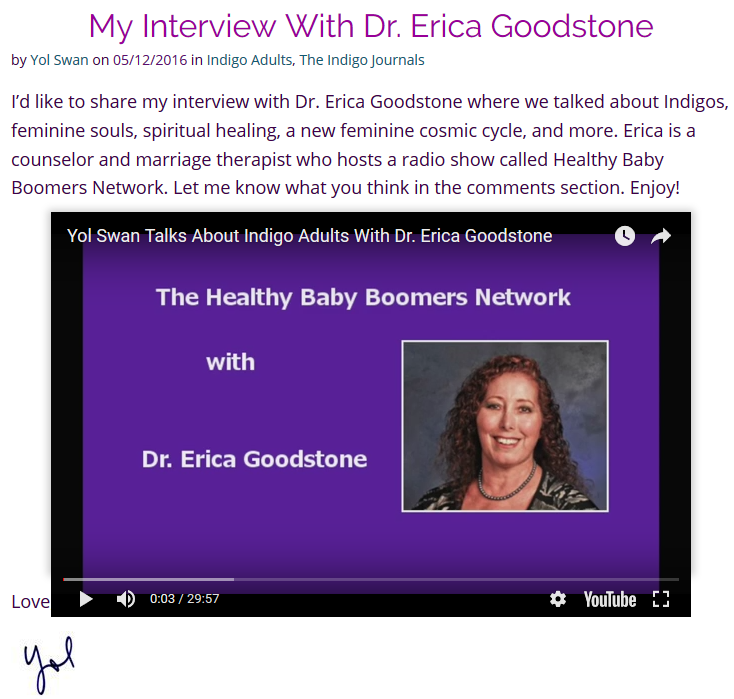 Love does not grow in a state of constant bickering and threatening to leave or the sudden decision to escape when problems emerge.  Instead, love flourishes when individuals make a commitment to do what it takes to create the life they desire and when couples commit to doing what it takes to make their relationship work.  Miracles happen when individuals connect with their higher power, know they are part of something much greater than their own self, and are willing to receive help in the form of counseling, training, coaching or on-site rehabilitation.
Nayaswamis Jyotish and Devi, Directors of Ananda Ashram, Deliver Spiritual Wisdom Guided by Paramhansa Yogananda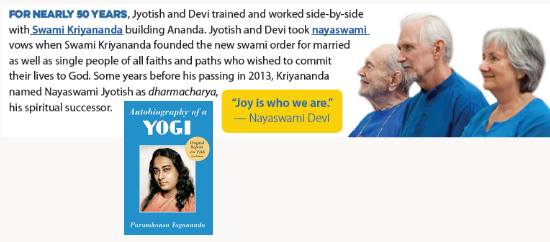 Life and Relationships Do Not Have To Be Painful and Difficult
Love is gentle, patient, kind and long suffering. When you love, you allow the other to live in their own reality and you allow yourself to gently share your authentic self.
Love lives in the present moment, not in the past or in the future. Even if our loved one is no longer with us or has not yet arrived in the flesh, the love we feel exists and emanates from within our own heart and soul.
Allow the love within you to find it own expressions. Allow your senses to flow as you connect with everyone and everything around you. Spend time in nature. View the colors, taken in the sweet smelling scents of the flowers. Watch the birds fly, the dogs and cats playing, babies giggling, children laughing. Feel the awe and wonder surrounding you in the natural world.  Become attuned the essence of life, the essence and being of your own life.
SPIRITUAL LOVING AND HEALING RESOURCES
BOOKS, EBOOKS, KINDLE, SMASHWORDS
RADIO INTERVIEWS ABOUT DR. ERICA
Interview With A Relationship Healer
Healing Through Love Interview
How to Heal a Relationship
Heal Your Relationships Through Love

DR. ERICA'S SPIRITUALLY HEALING RADIO SHOWS



DR. ERICA'S BLOGS
Speaking About Love
What Does Love Mean to You?
The Immaculate Conception of Love
Imagine Love Everywhere Always
How Much Patience is Enough in Personal and Professional Relationships?
One Moment in Time
Are You Ready, Willing and Able to Heal?
The Immaculate Conception of Love
Imagine Love Everywhere Always
Believing in Love Does Not Make You Loving
Love in the Age of Terror
Clean Loving Clean Life
All You Need is Love
Other People Make Relationships Difficult

DR. ERICA'S ARTICLES
Goodbye Inner Critic – Hello Love
Accept Me Naked
The following two tabs change content below.
Dr. Erica Goodstone is a Spiritual Relationship Healing Expert helping men and women heal their bodies and their relationships through love. Having presented her comprehensive relationship healing programs throughout the U.S. and Canada over several decades, she has helped literally 1000's of men and women to heal through learning how to love. Dr. Erica believes "Where There is Love There IS a Way". When you love, accept, listen and pay attention to your body, trust your own sense of what you truly desire, and strive to understand, appreciate and really know the other people in your life, anything and everything is possible.
Latest posts by Dr. Erica Goodstone (see all)