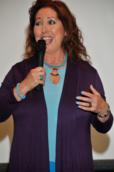 Are YOU ready to find love, fulfill your desires and live in a state of irresistible passion? Find out WHY you have not yet been able to enjoy the kind of love you truly desire.
In this special interview of Dr. Erica by David Riklan, founder of SelfGrowth.com, you'll discover how to:   
Stop Suffering and Start Enjoying "all" your relationships NOW

Discover 9 Love Secrets (areas of focus) to transform your approach to love

Proven System to create spiritually aligned, long-lasting, joyful relationships

The 1 Absolute Requirement to unblock your sensual and sexual passion.
Click on the link below to listen to the MP3 
You can listen here or download the file to your computer!
Be sure to check your email inbox for more Love Secrets headed your way. Please "Whitelist" me by adding me to your Contacts in your email program so you don't miss a thing!
Let me help you to take all of your relationships to the next level. Find out how here.
Be sure to share this audio with your friends!
Discover the Power of YOU to Transform Your Relationships NOW.
The following two tabs change content below.
Dr. Erica Goodstone is a Spiritual Relationship Healing Expert helping men and women heal their bodies and their relationships through love. Having presented her comprehensive relationship healing programs throughout the U.S. and Canada over several decades, she has helped literally 1000's of men and women to heal through learning how to love. Dr. Erica believes "Where There is Love There IS a Way". When you love, accept, listen and pay attention to your body, trust your own sense of what you truly desire, and strive to understand, appreciate and really know the other people in your life, anything and everything is possible.
Latest posts by Dr. Erica Goodstone (see all)