GET READY FOR LOVE
REMEMBER
IT TAKES 30 DAYS TO CHANGE A HABIT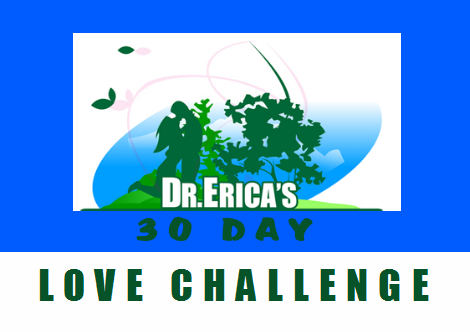 THE LOVE CHALLENGE STARTS SOON
DECIDE NOW TO

PARTICIPATE FULLY
DO THE CHALLENGE EVERY DAY FOR 30 DAYS
Are You Ready, Willing and Determined
To Exercise, Stretch and Strengthen
YOUR LOVE MUSCLE?
Participate fully every day and the way you view love WILL change.
Your friends and family and co-workers will see a big difference.
The world you live in will become more friendly and more loving.
As you read the lessons and take the required action steps,
you may be surprised at the different emotions you start feeling.
Relax and trust the process of letting go and allowing love.
I am so excited that you are joining me in this 30 Day Love Challenge.
To show how much I appreciate you, I am giving another free gift,
an exercise you can use immediately to begin your journey to love.
Get the full version of Be Who You Are here.
Ready to take this 30 Day Love Challenge and really participate?
Send an email with the subject line "YES, I'M READY" TO
DrErica@CreateHealingAndLoveNow.com
 Warmly,

P.S.  WATCH YOUR INBOX.  Don't miss a single day.  Get started on the path to making a difference with everyone you meet by sharing your love more openly and freely.
The following two tabs change content below.
Dr. Erica Goodstone is a Spiritual Relationship Healing Expert helping men and women heal their bodies and their relationships through love. Having presented her comprehensive relationship healing programs throughout the U.S. and Canada over several decades, she has helped literally 1000's of men and women to heal through learning how to love. Dr. Erica believes "Where There is Love There IS a Way". When you love, accept, listen and pay attention to your body, trust your own sense of what you truly desire, and strive to understand, appreciate and really know the other people in your life, anything and everything is possible.
Latest posts by Dr. Erica Goodstone (see all)