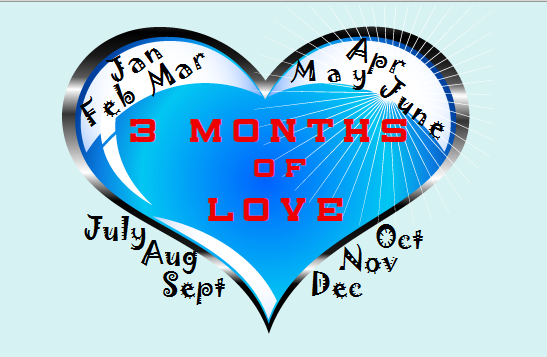 3 MONTHS OF LOVE MENTORING
YOU COMPLETED THE  CHALLENGE
You Spent 30 Days to Develop Your Love Habit
You are beginning to Put Love First.
This takes time, self-reflection, practice
and many different interactions with others.
You know that Love is an Art and an Action.
Feeling that we love someone is not enough.
Saying that we love someone is not enough.
The key is to think, believe and act with love.
And this takes time, practice and support.
Sometimes you need to share.
During these 3 months you will be able to
Focus on YOUR personal love concerns.
Discover how to apply YOUR love skills.

The research and hard work are done.
The daily lessons and teachings are here.
You may have felt overwhelmed before.
Now you can review the lessons with ease.
The Goal for 3 Months of Love Mentoring is
FOR YOU to share your personal concerns
Learn how YOU can improve YOUR love
And help YOU to feel really loved.
As you strengthen your love muscle with
all the people you meet, you will naturally
find that you can much more easily accept,
appreciate, acknowledge and show your
love to the most important people in your life
including ESPECIALLY yourself.
You will finally be ready to:
* Say "I Love My Life"

* Create the Love and Romance You Desire

 3 MONTHS OF LOVE MENTORING
NOT OFFERED AGAIN UNTIL NEXT LOVE CHALLENGE ENDS
HERE'S WHAT YOU GET
Weekly Private Coaching Call
Review of Your Favorite Lessons
Full Access to ALL the Lessons
Deeper Understanding of the Art and Practice of Love
Checklists and Cheat Sheets
Visualizations, Guided Imagery and Practical Exercises
Facebook Group Discussions
$497        $397       

$297 SPECIAL
I look forward to working more closely with you to help you feel and express the power of your love.
Warmly,

The following two tabs change content below.
Dr. Erica Goodstone is a Spiritual Relationship Healing Expert helping men and women heal their bodies and their relationships through love. Having presented her comprehensive relationship healing programs throughout the U.S. and Canada over several decades, she has helped literally 1000's of men and women to heal through learning how to love. Dr. Erica believes "Where There is Love There IS a Way". When you love, accept, listen and pay attention to your body, trust your own sense of what you truly desire, and strive to understand, appreciate and really know the other people in your life, anything and everything is possible.
Latest posts by Dr. Erica Goodstone (see all)