It has been said that in the online world "Content is King." The new style of marketing is known as Relationship Marketing. Businesses are striving to build ongoing relationships with satisfied customers and raving fans. What better way can an entrepreneur and business owner do that than by Blogging, providing high quality blog posts with educational, engaging and value-laden content.
A prolific blogger, Dr. Erica has learned what it takes to create new and interesting content, to attract curious and enthusiastic readers, and to offer value that keeps them coming back for more. Below are a few samples of blogging webinars that Dr. Erica has presented. She will easily adapt each presentation to suit your individual or company needs for 1 session, multiple sessions, different time frames and specific targeted focus.

The Power of Blogging and Social Media

SOCIAL MEDIA AND BLOGGING SECRETS TO BUILD YOUR PRACTICE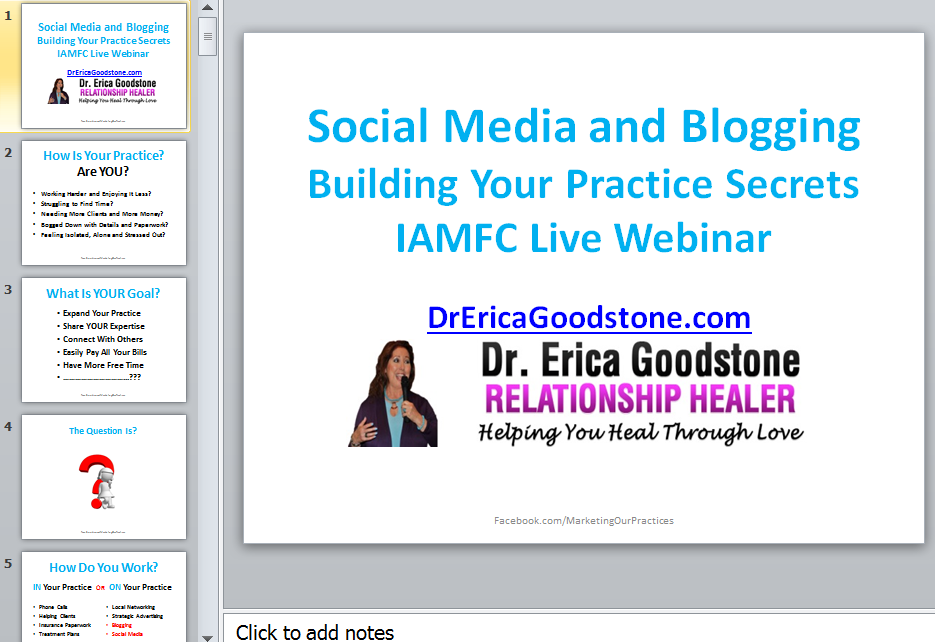 Dr. Erica reveals the secrets to using social media and blogging to create a successful practice.  The key is engagement and the focus of this webinar is to bring therapists together to collaborate,share each others' work, and educate the world about the essential value of the therapeutic process.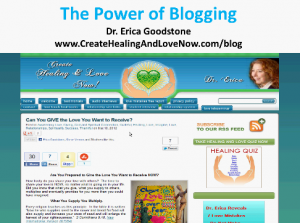 In this webinar, Dr. Erica provides an overview of what you need to do to optimize your blog. She shows how to get your ideal potential customers to visit your web site, read your blogs, leave comments, share and syndicate your blog posts on social media sites, and bring hundreds of links back to your blog. She shares numerous tips on ways you can begin to monetize your blog through paid advertising, guest blogging and product sales.
Boost Your Blog in 30 Days
In this 4 week webinar series, Dr. Erica teaches the nitty gritty of blogging. She begins with the basic requirements of doing a keyword search, selecting a domain name, choosing a hosting service and uploading a domain name to a wordpress blog site. Once the site is functioning online and verified by Google, she assists the viewers to add essential plugins, create usable widgets, and begin posting blog content. The goal is to have a working blog that brings business to the site in 30 days.

The following two tabs change content below.
Dr. Erica Goodstone is a Spiritual Relationship Healing Expert helping men and women heal their bodies and their relationships through love. Having presented her comprehensive relationship healing programs throughout the U.S. and Canada over several decades, she has helped literally 1000's of men and women to heal through learning how to love. Dr. Erica believes "Where There is Love There IS a Way". When you love, accept, listen and pay attention to your body, trust your own sense of what you truly desire, and strive to understand, appreciate and really know the other people in your life, anything and everything is possible.
Latest posts by Dr. Erica Goodstone (see all)